Sinfonietta Vidin
Total donations: $1,845 | Partnership: 2022
Sinfonietta Vidin is the largest and only state musical cultural institute of its kind in the province of Vidin.
There are 43 members of the symphony orchestra employed at Sinfonietta Vidin with an administration team. Many members of the Vidin orchestra come from the city itself. A government cultural institute is co-financed by the Ministry of Culture as a small amount of the money is provided by the Municipality of Vidin.
One of the priorities of the activity of Sinfonietta – Vidin is to perform educational concerts and have lectures addressed to the children and youth population. The goal of these educational programs is the children and teenagers to get acquainted with the musical instruments used by the symphony orchestra and to involve them in the world of classical music through the performance of composers' works, which they study at school.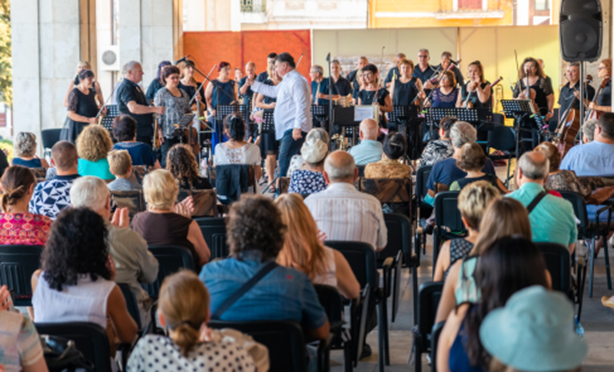 During the educational concerts and lectures, the young people have a chance to get acquainted with every musical instrument and to play them. They participate intensely in these programs as they play together with the orchestra tunes, which they learn at the kindergarten.
Sinfonietta Vidin members take part in the education initiative "Fortissimo Class" demonstrating the musical instruments used by the philharmonic orchestra, training the children from the schools in Vidin to play them. This educational initiative finishes with a closing concert of Sinfonietta Vidin where the kids can listen to classical works as well as soundtracks of their favorite movies.
Every season Sinfonietta Vidin gives young conductors, who graduated from the National Music Academy "Pancho Vladigerov" – Sofia, the chance to conduct the orchestra in concerts included in the cycle 'Stage for the Young Conductor' as an important step in their professional development.
Sinfonietta Vidin every season also invites students from the National Music School 'Lyubomir Pipkov' – Sofia and from the high schools of music in the country, prize-winners of national and international competitions to be soloists at the cycle of orchestra's concerts 'Evenings of Young Talents'.
Members of the orchestra provide lessons and lectures to the pupils throughout each school year, teaching them to play piano, flute, violin and other instruments. They also teach musical theory to the students during classroom lessons providing cultural education to the citizens of Vidin province.
The concert hall is the only cultural venue in the city of Vidin, providing the locals with much needed place for social gatherings. The Vidin Philharmonics represents the only source of knowledge about classical and traditional music for the community. The orchestra is a vital part of the life in Vidin, fostering the cultural and musical growth of the children, which follows them throughout their whole life.