Africa
Supporting students & schools in East Africa
"It is not beyond our power to create a world in which all children have access to a good education.
Those who do not believe this have small imaginations."
~ Nelson Mandela
Please support students and schools in East Africa by donating here.
Sandra Vaughan, Grand Circle Foundation Project Manager in East Africa, shares an update on the impact your donations make for students and schools in Kenya, Tanzania and Rwanda.
Dear friends,
I am a teacher. Even though it has been years since I stood at the head of a classroom, I have always felt that once a teacher – always a teacher. That is why, when Alan and I created the Grand Circle Foundation 30 years ago (in 1993), I made sure that supporting schools and children was at the top of our list. I am so proud that since then we have supported more than 300 schools in 61 countries.
In many villages around the world, schools are the heart of their community. It is where families put their collective hopes and dreams for a better future for the next generation. This is especially true in East Africa, a place so very dear to my heart. Today the Grand Circle Foundation supports 8,120 students in Grades 1-8 at 16 schools in Kenya, Tanzania, and Rwanda, as well as 5 students in Universities, including Jacob, pictured below, who is currently enrolled at the top accounting University in Nairobi, Kenya.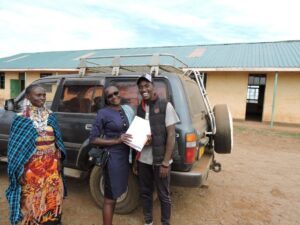 I know many of you have visited one of the schools supported by Grand Circle Foundation. In addition to your smiles and hugs, you brought pencils, pens and pads of paper and/or made donations for clean water and sanitation, solar lights, scholarships, classrooms, menstruation necessities and daily school supplies. Children receive notebooks and schools supplies at the Eluway Primary School in Tanzania in the photo below.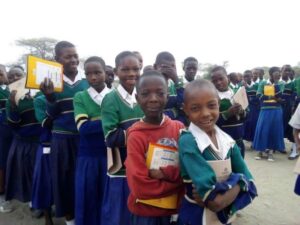 I cannot overstate what a difference you have made in the lives of these young students. Today, I ask you to join my family to continue our support of the children by raising funds for basic supplies, furnishings, toilets, hand washing stations, water catchment systems, and classroom renovation and construction. My family will match up to $75,000 of funds raised by March 18, 2023.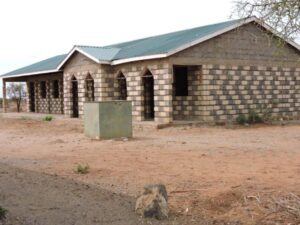 The community built the building above at the Amboseli Lewis Secondary School, which will become a Science lab, with desks, microscopes and more to be supplied by Grand Circle Foundation.
In these countries the government requires students to have certain basic items in order to attend school but does not fund them. A child can be sent home from school if they do not have a pencil. Moreover, the excessive drought in this region has devastated local farmers and many families can no longer afford the school fees, and must choose between educating or feeding their children.
A box of chalk cost $17 and will last a school of 500 students a month; one solar light cost $7; a $2.15 tablet will give a student a month's supply of writing paper. While these items may seem small to us, they are mighty big in the hand of an East African boy and girl. Students at the Lemong'o Primary School are happy with the supplies received, thanks to your donations, in the photo below.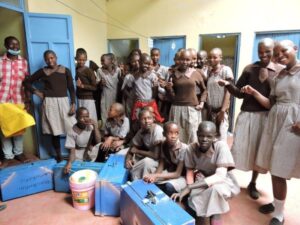 Our goal is to raise a total of $150,000 to bridge the need now and to ensure that no student is denied an education for want of pen and paper. For those of you who hold cherished memories of your visit to East Africa and those of you who dream to see this beautiful part of the world and to all of you who share the dream that all our children will be happy, healthy and hopeful, please consider donating towards this important cause. You will help thousands of young students who attend schools supported by Grand Circle Foundation and their families realize their hope for a brighter future. You can donate here.
Peace and love,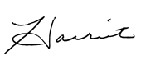 Harriet Lewis
Chair
Tanzania: Ayalabe Primary School
Three hundred and eighty-six students at this school now share the block of girls restrooms because a sink hole opened under the boys' toilets. GCF recently provided $5,837 towards the construction of a six-block restroom for the boys, thus giving both boys and girls their privacy and meeting the government requirement of 25 students per toilet. This project is part of the larger WASH initiative (Water Sanitation and Hygiene) which we started in 2015 to ensure all the schools and communities we support have an adequate supply of clean water and toilets that meet or exceed local standards. Today 95% of the schools we visit have access to clean water, 97% have adequate toilets, and 70% of the villages we support have clean water.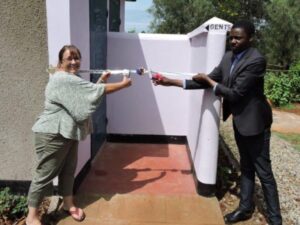 Sandra Vaughan, East Africa Project Manager for Grand Circle Foundation, at the "Ribbon Cutting" for the new toilet at Ayalabe Primary School.
Kenya: Amboseli Lewis Secondary School
The school opened in 2018 with 16 students and continues to grow every year. The enrollment for 2023 is expected to be more than 200 students. The local community and Kenyan Government have provided some support, but Grand Circle Foundation continues to provide the tools needed for success, including IT upgrades and technology text books, being delivered in the photo below.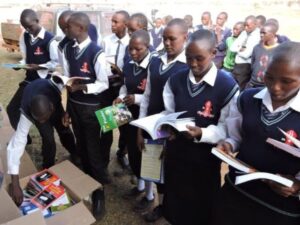 Rwanda: Rushubi Primary School
At Rushubi Primary School, many teachers walked up to 20 miles round trip to get to this remote location. A generous donor was so moved by the dedication of the teachers, he funded $6,130 to purchase bicycles for all 20 teachers and 2 administrators. Delivery day was a day of celebration for the entire school.
Grand Circle Foundation 2022 Year End Results
Every year we are humbled by the generosity of our travelers and donors, but 2022 exceeded our imagination, primarily thanks to your overwhelming support for the people of Ukraine.
In 2022, GCF received over $3.2 million in donations from almost 14,000 donors. Donations ranged from $10 to $15,000, and the average donation was $234.
In 2022, $2.38 million of those funds were wired to support 54 projects in 21 countries, but the bulk of the funding was sent to support Ukraine and the refugees in Poland and Romania.
Below is a chart showing how the funds were allocated by use, and a few updates from some partners in 2022.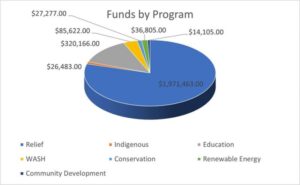 Ukraine, Poland and Romania: Support for Refugees, $1,971,463 funded in 2022
Funding has provided food, clothing, housing, language lessons, water filters and more. Funds allocated by country: Poland – $1,283,463; Ukraine: $550,000; and Romania: $138,000
Grand Circle Foundation supported the Joint Distribution Committee (JDC) and Combined Jewish Philanthropies to support people in the Dnipro region, which has been under heavy attack since the start of the war. JDC coordinator, Inna, shares what life is like in Odessa with limited water and electricity.
India: Solar Village Project, $25,000 funded in 2022
Unreliable electricity and water contamination are major problems for many rural communities in India. In 2022, Grand Circle Foundation partnered with Solar Village Project to implement two sustainable development projects.
A 5 kilowatt solar system and water purification system was installed at the Mahsi Community Health Center in Uttar Pradesh, one of the largest in the area, which previously faced power cuts lasting 6-7 hours per day, and a lack of access to clean drinking water.
Facing the same problems at the Nagir Parishad School No. 3 in Maharashtra, a primary school serving over 2,000 students in Grades 1 through 7, a 5 kilowatt solar array and a 500 liter-per-hour water filtration system were installed.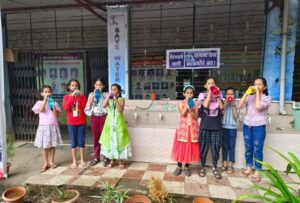 Thank you for your generous support of Grand Circle Foundation, and the trust you place in our team to ensure your donation is used as intended.
Because all administration costs are funded by the Alnoba Lewis Family Foundation, 100% of all donations are tax deductible and returned to our partner sites.
If you made a donation to support a specific project and would like an update on how the funds were used, please feel free to contact us at: [email protected], or call 1‑800‑859‑0852.