World Wide Initiatives
A day of daring leadership at the Alnoba 2022 Environmental Leadership Awards

"It is easy to get to habituated to the threads and disasters we hear on morning news.
Don't. The morning news is yours to change."
– Samantha Power
Dear Friends,
On October 19th, we were honored to host the Alnoba Environmental Leadership Teach-In Day and awards dinner.   More than 150 leaders joined us to learn, share ideas and get inspired to dare more greatly on behalf of social and environmental justice.
While it is easy to get overwhelmed with the news, the awards night was a grand opportunity to share space with leaders who literally transform the headlines. This included Brad Campbell of Conservation Law Foundation, who recently won a victory over ExxonMobile, and past Alnoba award winners Patricia Gualinga of the Indigenous Kichwa people, Christa Big Canoe of Aboriginal Legal Services, Phil Coupe of ReVision Energy and Matt O'Malia, the architect behind Alnoba's design.
They slay giants, speak truth, do hard work, take risks and in some cases risk their lives to help save this one Earth we share—and show us all that we have the power to do the same, even if just here in our own  backyards.
We are pleased to share the stories of this year's six honorees, who each have our deep respect and profound gratitude for all they have done for our planet.
Peace and Love,
Alan and Harriet
Alnoba was honored to present the 2022 Alnoba Environmental Leadership Awards on Wednesday, October 19th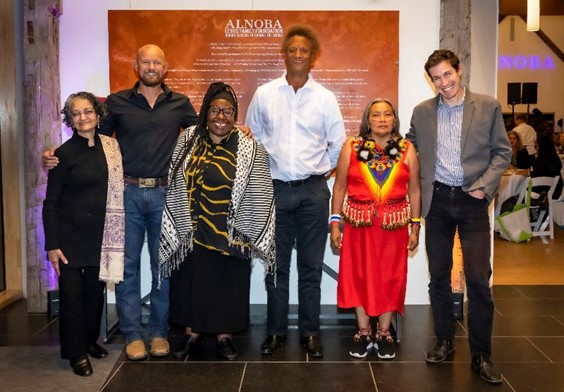 Pictured: The recipients of this year's Alnoba Environmental Leadership Awards. From left to right: Geeta Aiyer, Doc Hendley, Loretta J. Ross, Willy Chambulo, Josefina Tunki, Sam Evans-Brown
MOMENT OF TRUTH AWARD FOR LEADERSHIP            FOR GENDER EQUITY
Loretta J. Ross, Activist. Public Intellectual. Professor.
As part of a 50-year history in social justice activism, Loretta J. Ross launched the Women of Color Program for the National Organization for Women (NOW) in the 1980s, was the national coordinator of the SisterSong Women of Color Reproductive Justice Collective from 2005–2012, and co-created the theory of Reproductive Justice in 1994.
Ross was national co-director of the April 25, 2004 March for Women's Lives in Washington D.C., the largest protest march in U.S. history at that time with 1.15 million participants. Visit Alnoba's award recipients page to learn more about Loretta.
ALNOBA MORAL COURAGE IN LEADERSHIP AWARD
Doc Hendley, Founder of Wine to Water
Doc Hendley, founder of Wine to Water, has done extraordinary work helping over 1.4 million people gain access to cleaner, safer sources of water. Visit Alnoba's award recipients page to learn more about Doc.
ALNOBA INTERNATIONAL INDIGENOUS LEADERSHIP AWARD
Josefina Tunki, President, Shuar People of Ecuador
Josefina Tunki, the first female president of the Shuar People of Ecuador, has demonstrated remarkably brave leadership as these Indigenous defenders of the Amazon fight against the predations of the state and the mining companies. Visit Alnoba's award recipients page to learn more about Josefina.
EMERGING ENVIRONMENTAL ENTREPRENEUR AWARD
Sam Evans-Brown, Executive Director, New Hampshire Clean Energy
Sam Evans-Brown took the leap from serving as an award-winning environmental journalist and podcaster to fighting for real change when he took the helm of Clean Energy New Hampshire in 2021. Sam spearheads Clean Energy NH's efforts to transform New Hampshire's energy economy. Visit Alnoba's award recipients page to learn more about Sam.
ENVIRONMENTAL CEO AWARD
Geeta Aiyer, Founder and CEO,  Boston Common Asset Management
Geeta Aiyer leads Boston Common Asset Management, a majority-women founded and owned firm recognized as a pioneer in sustainable investment strategies. Geeta's flagship initiative, Banking on a Low Carbon Future, has engaged nearly 60 global banks in work on climate risks and opportunities.  Visit Alnoba's award recipients page to learn more about Geeta.
LEWIS FAMILY LIFETIME AWARD FOR DARING LEADERSHIP
Dr. Willy Chambulo, Founder of Tanganyika Foundation
For more than 30 years in Tanzania, Dr. Willy Chambulo has been showing how one person can change a country. As the founder of Kibo Safaris and Tanganyika Wilderness Camps, he has provided jobs for hundreds of Tanzanians. His Tanganyika Foundation supports Maasai schools, medical clinics and villages.
Willy has proudly shared his Maasai heritage and values with tens of thousands of travelers over the years, and he is a leading supporter of the Serengeti De-Snaring Program aimed at stopping poaching and saving endangered species. Visit Alnoba's award recipient page to learn more about Willy.