"Patience is key. Remember: A jug fills drop by drop." Buddha
The Khewan Lhakhang monastery of Gangtey, Bhutan is home and school to young monks, ages 7 to 15.  And at 9600 feet, already challenged in the living conditions of these young disciples but when an OAT traveler saw the condition of the kitchen she wanted to help.
After several emails to get construction quotes, funding costs etc. a donation was made in mid 2019 and ground was broken.
Work steadily progressed that Spring and into Summer but as the Fall weather grew colder, the workers (not native to Bhutan) went home to India for holidays and did not return.  Construction stalled as the Head Monk tried to find new workers.
And then – Covid.  Borders closed, and work stopped completely for the next 18 months as everyone, everywhere just tried to survive.
Spring of 2021 saw the return of workers and work was slowly able to begin again.
The initial project for just a kitchen now expanded into a new dining hall as well.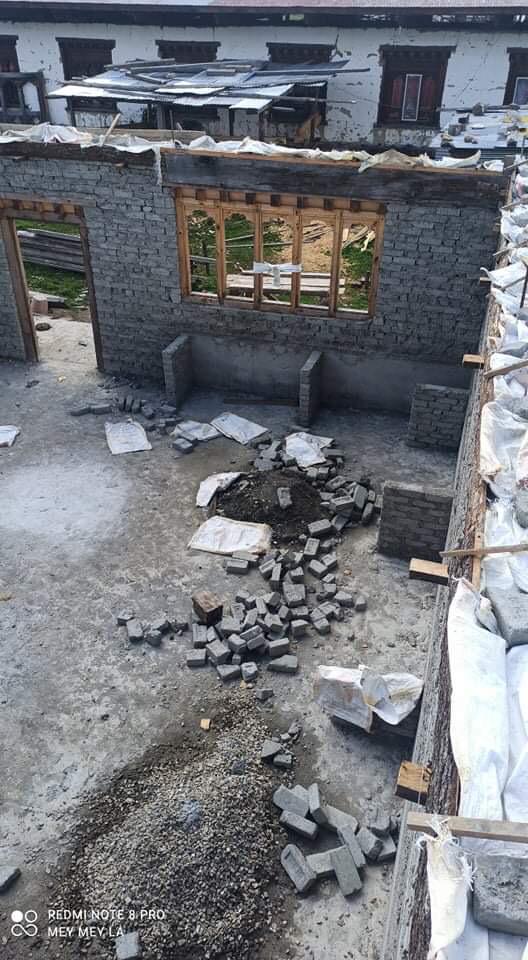 Slowly but surely, the new structure was being created.
And today, after almost 3 years…the little monks have a new kitchen and dining hall!
Thank you Ms. Larson, for your generosity and especially your patience.