Europe
Supporting mothers and children on this Mother's Day
                Kadir shares an update on what Grand Circle Foundation is supporting in Poland,                                                                including an orphanage for children from Bucha, Ukraine,                                           the site of horrible massacres and atrocities.
 "I appeal to you, women in America, and ask to support Ukrainian women and children who escaped from war …These days every act of kindness and humanism is vital while we are bravely fighting for freedom for Ukraine, for Europe, for the whole world."
~ Olena Zelenska, First Lady of Ukraine
You can help us provide direct support to Ukrainian refugees by donating here.
As a mother of two and grandmother of three, my heart breaks as I watch the news and read about the choices the women of Ukraine are being forced to make – asking themselves whether to stay in Ukraine and hope the war does not advance to their community, or leave their homeland and hope to find a safe place for themselves and their children to begin a new life.
Grand Circle Foundation's goal is to help as many women and children find some peace by providing long term housing, food, and language lessons for families and orphans to help them settle into Poland and Romania.
Donations to support our efforts, including our initial donation of $250,000,  equal an amazing $2,360,516 raised in a little over two months time.  Grand Circle Foundation has funded $1,118,869, and committed an additional $802,637 to be funded in the next 60 days for a total funded/pledged of $1,921,506. 81% of all funds received have already been spent or allocated, and because the Alnoba Lewis Family Foundation covers all overhead costs, 100% of all donations received are returned to our partners, and fully tax deductible.
The donations have been humbling, but I need to ask for more help, as Kadir in Poland, and Stefan in Romania, continue to identify local organizations to support. I hope you will continue to support our efforts to put a mother's mind at ease, and help children sleep peacefully.
I will continue to share weekly updates on the communities, organizations and people Grand Circle Foundation is supporting, and the impact of your donations. Thank you again for your support and trust.
Peace and love,
Harriet Lewis
Strajerii Mici, Romania: Orthodox Easter, Sunday, April 24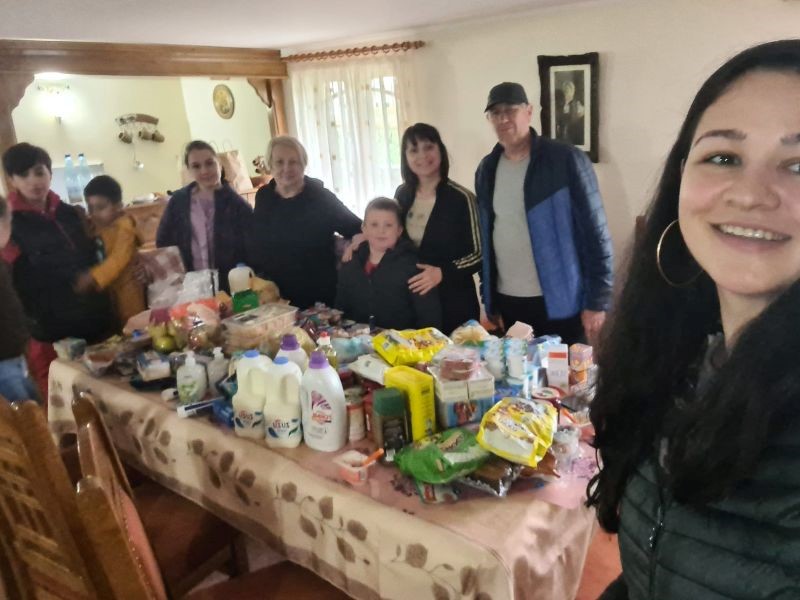 From Stefan Mototolea, Romania:
"GCF sponsored a full Easter Lunch for 30 refugees – women, children and one elderly gentleman. They were all extremely thankful for having them for lunch, which was all cooked by the local community. We bought Easter chocolate bunnies for the kids and regular painted eggs for the adults. We also provided some shoes and clothing for the children. One child came in with broken shoes and when he saw the new ones, he simply started crying. I never knew that a $15 pair of shoes could bring so much happiness to someone's heart. It was unbelievable. Total cost 600 USD"
You can help Stefan and Kadir bring more joy and peace to women and children in Poland and Romania by donating here.
Grenadierow, Poland: Housing for 303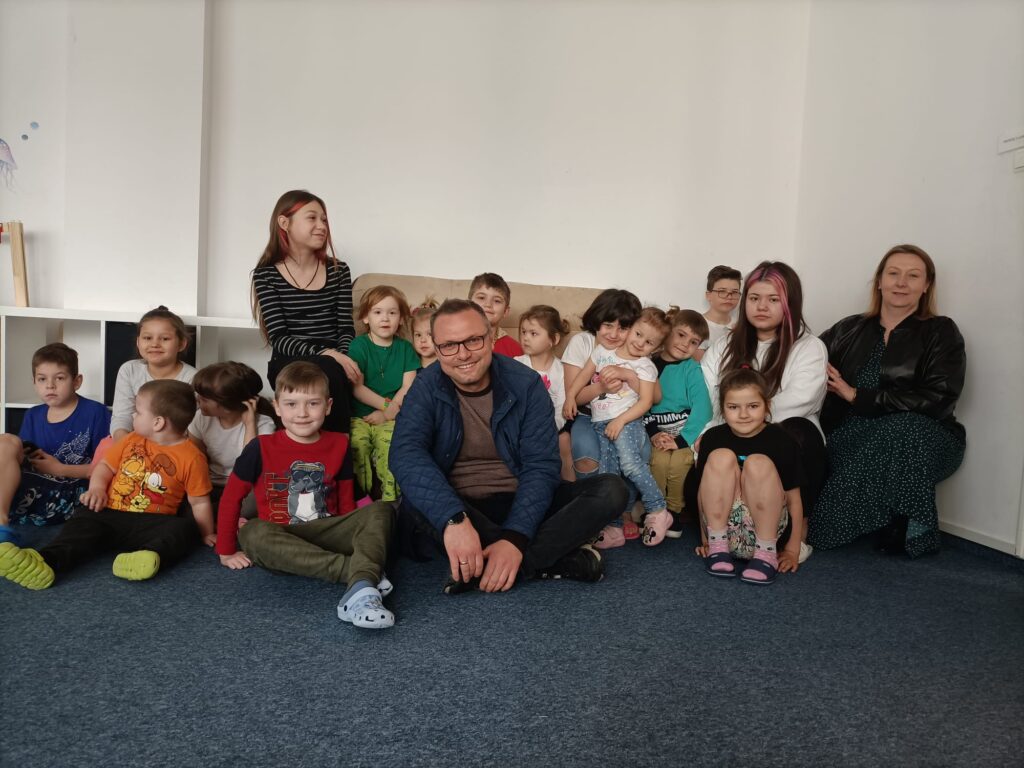 Kadir with some of the children at Grenadierow,  with renovations funded by Grand Circle Foundation and now home to 303 refugees. While there, he met Yevgenia, 23, (pictured above) and managed to call her husband, Danii, who remained in Ukraine to defend his homeland. Danii is thankful to us for taking care of his love.
Ozarow, Poland: Currently housing for 81, will increase to 160 by end of May.
Anastasia,30, and her son Alexander, 1, arrived from Krarkov. Her husband was shot once in the leg, but recovered and continues to defend his country. She is thankful for a place to stay with no sirens or rockets, and a peaceful place to live with her son…and their cat!
Photo on right: Messages on a "Wall of Hope".
 Konstancin, Poland: Housing for 250 women, children and elderly men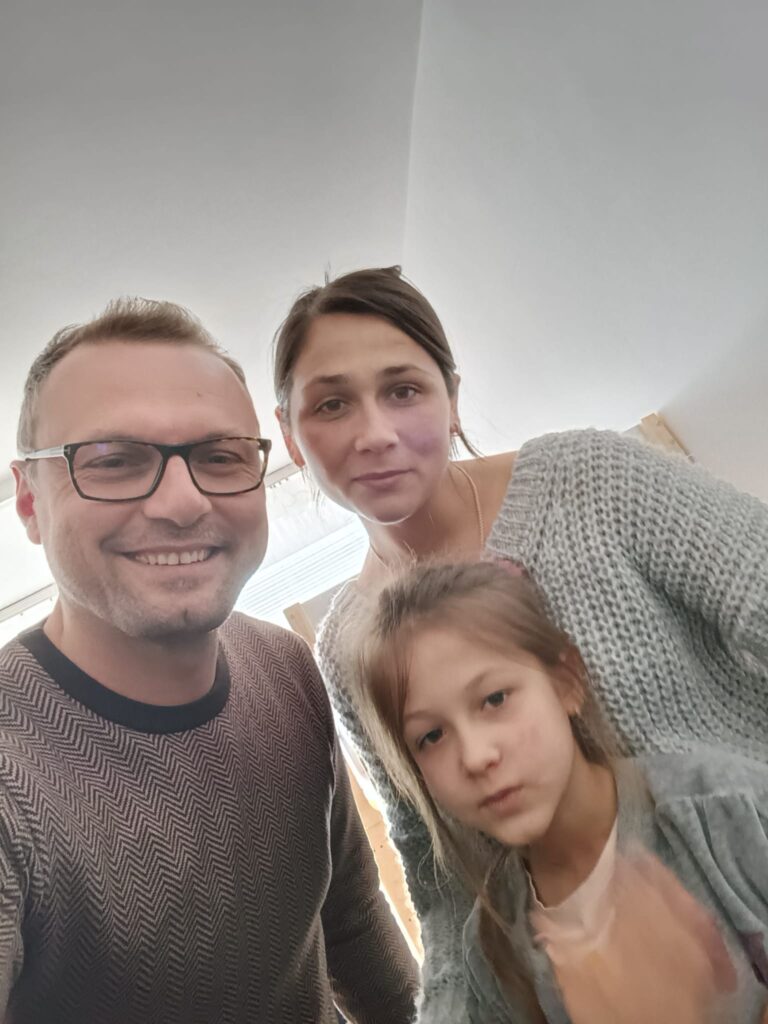 Ludmilla, 32, and her daughter, Veronika, 9, came from Krarkov on March 20. When the war began, Russians destroyed the power units and water supplies. They were thankful for the snow, which they melted to use for water to drink and cook.
Other photos: Kadir gets a smile from 5 year old Oleg; a typical room at Konstancin
Kadir interviews Alina, who lives with her mother and brother in Konstancin, a project supported by Grand Circle Foundation in Warsaw.
Thank you for your generous support of Grand Circle Foundation, and the trust you place in our team to ensure your donation is used as intended.
Because all administration costs are funded by the Alnoba Lewis Family Foundation, 100% of all donations are tax deductible and returned to our partner sites.
If you made a donation to support a specific project and would like an update on how the funds were used, please feel free to contact us at: [email protected], or call 800-859-0852.