Europe
An update on our support for the people of Ukraine
"Ukrainian glory and the freedom, has not yet 
died!
Still upon us brave brothers, Fate shall smile!"
~Ukrainian National Anthem
You can help us provide direct support to Ukrainian refugees
by donating here. 
Dear friend,
These sad and difficult times certainly give one perspective on life.  I also find that I am filled with such gratitude for our associates and travelers.  I am grateful that you trust us with your donations.  I am grateful we have expert people all over the world who know how to get things done.  I am grateful that together we can do something to help.   You give me hope.
Every time we ask you for help, you respond with such generosity and kindness.   Both Kadir in Poland and Stefan in Romania, have told us that many of you who had them as your trip leader have sent them emails of support, as well as shared our emails with your friends and neighbors asking them to help.  Many of you have emailed or called us at the Grand Circle Foundation to make donations on behalf of Kadir, Stefan or another trip leader from the region.   Please know, these messages mean a lot to them, to us and to all our European based associates to know how much you  care.
To date travelers, associates and friends have donated $959,674.  With the $250,000 match from Grand Circle Foundation, we have a total of $1,209,674 to help the people of Ukraine.
For those of us who travel the globe, the world gets smaller with each journey.  We've met individuals, shared meals with families and played with children in their schools in many countries.  We read and listen to the news differently when we can put a face to the story.  Most importantly, the more we travel the more we understand that we all share a common dream for our children to be happy, healthy, and hopeful.  That is why I am especially pleased that much of our work will support  the children of Ukraine.
We have a lot to update you on regarding our work in Poland and our partnership with Doc Hendley and Wine to Water.   On Tuesday we wired $215,000 to Kadir to support Father Arkadiusz ongoing work at the Wroclaw train station; to expand space for more than 5,000 children and women at the Arches Hotel in Warsaw and to provide supplies for Joanna Komarnicka, who opened her hostel for children and women.
As you know the situation continues to worsen.   Of the 1.7 million Ukrainians who have fled, 1.3 million people traveled to Poland and more than 227,000 to Romania.
The Wroclaw Train Station
On Monday night 1,200 refugees slept in the train station Wroclaw.  Many will stay a night or two before boarding trains to other European destinations.  Folks on the ground predict 50% will go further and the other half will remain in Poland.
Kadir has delivered five batches of supplies, which include diapers, baby food, juice, cooking oil and ingredients to make sandwiches.  He also purchased mattresses for those camped in the station. Kadir informed Father Arkadiusz, that we commit to funding their supplies for the next three months at least for a total of $75,000.  We want him to know we are partners.
Kadir shared some stories of people he met at the train station:
17 year old Igor arrived from Kharkiv, looking for his mother who has arrived 3 days prior with his younger brother. He didn't know anything but that his mother headed for Wroclaw. Sister Krysztofa Kujawska along with the volunteers were able to locate the mother and arranged transportation for Oleg to unite with his mother.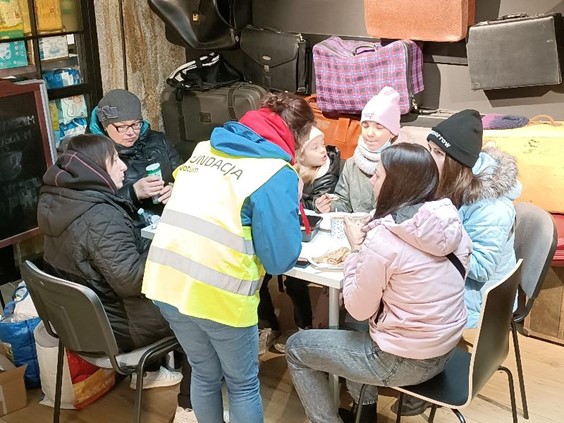 Magdalena and Ludmilla (pictured above) just arrived on Monday with their children. They were neighbors living in Kiev.  When the bombing started, they left their home and husbands behind 4 days prior.  They took a bus form Kyiv to Lviv and then walked from Lviv to Medika (Polish border) for 20 hours. They slept 2 nights at the border camp, where they received food, medicine, and clothes before taking the train to Wroclaw. When they arrived, food and immediate needs were supplied to them at the station. When Kadir asked them how they feel, Ludmilla replied she knows that her daughters are safe now.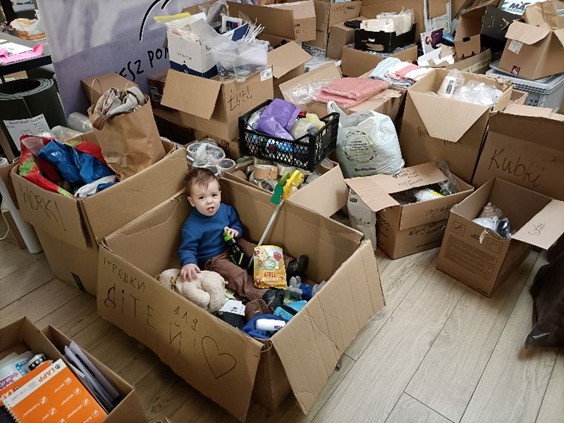 Small Oleg, 3 years old and pictured above,  came to Wroclaw 5 days ago and when Kadir was there. His mother and he were at the train station to get some pampers and baby food.
Hotel Arche, Warsaw, Poland
In Warsaw, the Hotel Arche's nonprofit Foundation, the Lena Grochowaska Foundation, rented several buildings nearby to expand space for the 5,200 refugees, which are there now.  They recently, cleaned and painted the area.
The Hotel serves as a resting place for arriving refugees before they travel elsewhere or find more stable housing and jobs for those opting to stay in Poland.  They have several doctors, including pediatricians and psychiatrists, as well as social workers on site to tend to the physical and emotional trauma of the people in their care.
Below is the budget to provide housing for 200 people:
Item                                 Quantity                Price                  Total
Double deck bed           200                         999                     199800
Mattrass                         200                         250                      50000
Bedding (complete)     400                         70                        28000
Towels                            400                         10                         4000
Washing Machine        15                            1000                     15000
Dryer                               10                            1500                     15000
Induction cook              12                            2000                     24000
Fridge                              15                            2000                     30000
Microwave                      20                           1000                     20000
Water heater                  20                            250                       5000
TV                                     4                              1500                     6000
Vacuum cleaner            10                              750                       7500
Dining Table                  30                              500                       15000
Couch for 4people         8                                2000                    16000
Coach for single             16                              500                        8000
PLN         443,300
$        100,750 USD
Apart Hostel, Wroclaw, Poland
As soon as Joanna Komarnicka, mother of three, heard that mothers with children were looking for safe place, she opened the doors of her hostel, which she has owned for 5 years in Wroclaw.  It has 65 rooms and can host 150 people.
Now there are 70 children (age 5-15), 15 infants (5-6 months) and 65 women (mothers, grandmothers, women who brought the children of their neighbors with them).
We sent Kadir $70,000 to will supply the hostel with food, water, some additional beds, and mattresses, as well as cover the cost of electricity.  In addition, we will fund language teachers.  The Polish government passed a bill allowing any Ukrainian child to attend public school.  However, the vast majority of young refugees do not speak Polish.  Joanna will coordinate 3-4 children's study groups and 2-3 groups for their mothers and hire language teachers to provide lessons.  These teachers will purchase all of the books and study supplies.  This will help smooth their transition in the midst of all the hardship they face.
Wine to Water
Many of you are familiar with Doc Hendley, Founder of Wine to Water.  We've worked with Doc for four years, bringing clean water to remote villages in Tanzania, Laos, Cambodia, and the Amazon.  Doc is one of the most persistent, focused and innovative leaders we know.  He gets results.  As you know, the situation in Ukraine is deteriorating with many towns without electricity and water.  Doc plans to bring in 12,000 portable water filters to distribute to families.  As he told us, you can take muddy water from a puddle and the filter will transform it into drinkable water.
On Tuesday, we connected Doc to Salvo and Stefan.  They will work together to get filters where they are most needed.  It is times like these that deepens our appreciation for strong, proven partners like Doc.
There is a lot happening fast and we will continue to update you as we move forward in Poland and Romania. We fully expect the situation to continue to deteriorate over the coming days.   In a call with Salvo and Stefan they both expect a bigger wave of refugees.   We continue to ask for your donations.  We feel confident in our leaders on the ground and the partners we work with.   100% of your donation goes directly to help Ukrainian refugees.
In times of darkness, we seek sparks to light our way.  We are comforted knowing that there is much love in the midst of great uncertainty and fear.  We are grateful to have so many good hearted travelers, associates and friends who give us hope and light.   Let us count our blessings and continue to pray for peace.
Stay strong and hopeful,
Harriet