Africa
DFG Hygiene kits in Zimbabwe
100 Days for Girls hygiene kits have been purchased in Victoria Falls thanks to a generous donation from the Stanwood Camano Island Chapter group, who put the funding together for this. Sewn by the local Days for Girls Enterprise group in Victoria Falls, Zimbabwe, 100 per cent of this grant goes back into the initiative and the community. As the materials for the Days for Girls kits are sourced in the United States, the funds are used to purchase more materials, as well as provide an income for the local sewers, which during this challenging economic time, is a significant benefit. The Days for Girls programme of enterprises enables local sewing groups around the world to earn an income. There is a certification process to ensure that a high quality is retained, and there are currently about 250 of these enterprises globally, ninety of which are in Africa.
Founded in Kenya in 2008, Days for Girls has provided over 1.7 million hygiene kits to women and girls in 127 countries. As these are reusable menstruation products, they go such a long way in helping girls ensure that they have adequate supplies. The kits are also of a high quality, and are comprehensive packs that include the reusable pads and replaceable inners, a towel, soap, underwear, and period tracker chart, all in a beautiful carry-bag.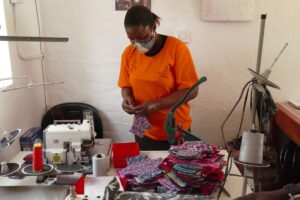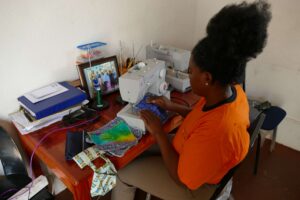 Menstruation is a significant challenge for girls in this region, as the cost of sanitary items is unaffordable for most. This has been made worse by the Corona Virus, as livelihoods have been lost and poverty has increased; many people are struggling to feed their families, let alone spending money on hygiene products. Thus, this donation comes at such an important time and will make a significant difference in the lives of those who need it most – particularly younger girls who have just started menstruating.
Examination classes are also about to go back to school for the first time since March. Ensuring that girls have an opportunity to finish their primary or secondary schooling is so important, and because many girls end up skipping school due to menstruation, this will give them a vital opportunity to attend school and be present for the classes that they have left in the 2020 academic year.
This is such an incredible initiative and we look forward to providing an update on the distribution of these kits to 100 girls who have a great need for them.