Africa
Jabulani papermaking Green Village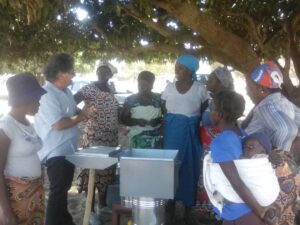 A green village is in the process of being established in Jabulani, a community located 20 kilometres from Victoria Falls, Zimbabwe. The aim of this initiative is to bring together people who are interested in establishing income-generating projects that are environmentally friendly, thus helping reduce waste that goes to landfill. Papermaking is one of the projects that has just been established here, and recently, eight women began their training with the Mapepa Culture Fund on how to use the equipment. With much enthusiasm and excitement at the prospect of recycling old paper into something new, the training is a huge success so far. The idea is that these women will go on to teach other members of the community so that skills are developed among a wider section of the community.
This project will enable paper waste to be recycled and repurposed, instead of ending up in landfill. It will also be sustainable, as there will always be a constant supply of paper waste from the surrounding community and Victoria Falls. Recycled paper has many uses, such as making new exercise books for the schools, but also the creation bespoke cards or writing paper: something that is highly attractive to overseas visitors as something small to take home with them as souvenirs.
Income-generating groups also have significant positive effects for communities. Skill development, community empowerment and collaboration, and the income generated within these groups allows the members to pay their children's school fees – a significant issue in Zimbabwe – as well as increase overall household income and reduce solid waste.
The community members involved with this project are highly motivated and have taken ownership of their group.